Free complementary facial treatments with Triumph & Disaster skincare
Event Status: Past
Event Date : 31/05/2019
Complimentary facial treatments with Triumph & Disaster in store as they launch their skincare range with us on King's Road Chelsea.
Triumph & Disaster will be offering free complimentary facial treatment using up to 5x T&D products (depending on what the customer would like) as follows:
A gentle face cleanse using Ritual Face Cleanser. 'Ritual' has been formulated to avoid drying and irritation by exploiting the natural benefits of Tamanu oil, Peppermint oil, Willow bark extract and Bentonite clay. A gentle, natural, peppermint scented formulation designed for everyday use. 'Ritual' gently dissolves grime while toning the skin, leaving you feeling fresh and looking bright.
Deep exfoliation using Rock & Roll Face Scrub. A Volcanic Ash & Green Clay Face Scrub to remove the build-up of unwanted material, cleaning out dirty pores, and revealing the fresh layers of good skin underneath.
Toning with Logic Toner. A Witch Hazel Toning Lotion, natural, alcohol-free toner. By cleaning out the last remnants of oily residue and unwanted build-up, 'Logic' works hard to clear and close pores and leave skin clean and taut. Engineered with a bespoke blend of proven actives, this natural formulation balances, clears, and tones, without stripping or dehydrating sensitive skin.
Face massage using Gameface Moisturiser. Specifically engineered to be light on the skin and easily absorbed, Gameface is a unique formulation of Jojoba extract, Horopito oil, Ponga fern (Cumingii) and Vitamin E, combined with a subtle infusion of essential oils. The result is a nutrient-rich, hydrating cream that will leave skin feeling toned, supple and fresh.
Delicate eye massage using Dichotomy Eye Serum. Utilising the benefits of Norwegian Kelp, Swamp Maple, Horopito, St Paul's Wort and Persian Silk Tree.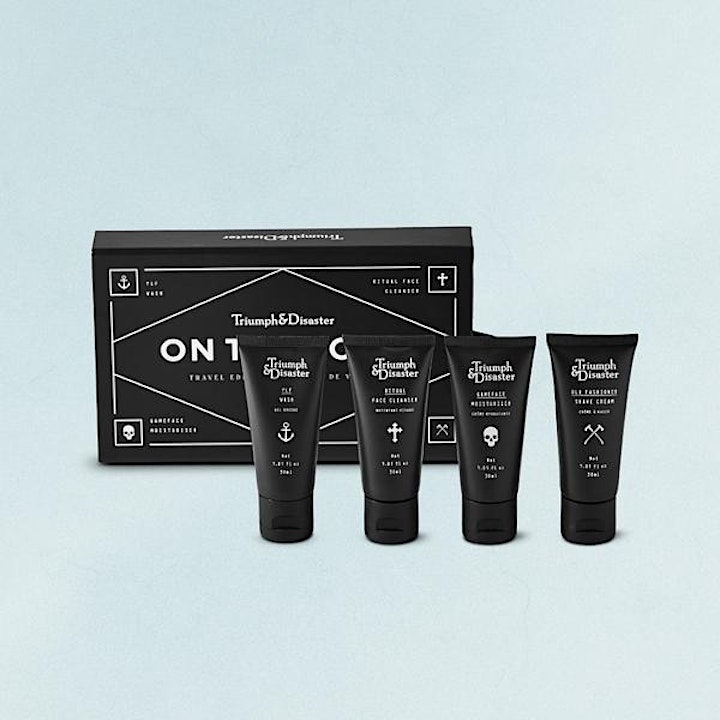 Dion Nash is the founder of Triumph & Disaster, a natural skincare brand hailing from New Zealand. Before Dion created T&D he was a professional Cricket player, playing both club Cricket for Middlesex at Lords, and also captaining the national New Zealand team.
At about 13 years of age, Dion's father gave him a framed poem called 'IF' by Rudyard Kipling. It was at a time when the son was rebelling against father, so the poem was promptly defaced and thrown in a bottom drawer, but never thrown away. The poem is advice from a father to his son on how to be a man. It is about humility, honour, risk and reward.
More than two decades later when the seed of an idea for a range of skincare products was born, values like these were ruminating through Dion's mind. They are values that he thought would help mould a brand into something capable of reminding us that acts of ritual and preparation are worthy endeavours, and that healthy skin is something to aspire to and be proud of.
So when a tattered old poem that his dad had given him years before was uncovered in the bottom of an old chest, and he read the line, 'if you can meet with Triumph & Disaster and treat those two imposters just the same', the deal was done and the brand born.
Triumph & Disaster's philosophy is to use the best of science combined with the best of nature to produce naturally derived but scientifically engineered products that work. We use indigenous ingredients such as Horopito oil and Ponga fern extract from New Zealand, blended with scientifically proven and natural ingredients from around the globe, such as clay from Australia, Jojoba extract from Mexico and Tamanu oil from Polynesia.
Finally, we believe that the future of sustainable business is a path of integrity and honesty and that customers deserve at least this much from the brands they support.
We aim to respect nature, utilise science, create products of ritual and tools for preparation - so we can treat Triumph & Disaster, those two imposters just the same.
Registration Link :